Compaq Armada E and M Series Laptop Notebook Docking Station / Port Replicator With Monitor Stand
Laptop locks into the port replicator in seconds and then you have the convenience of using full size peripherals.
Front view: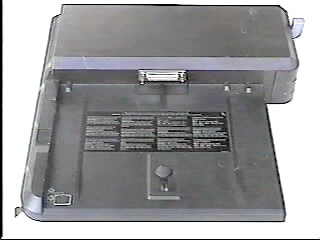 Audio out, microphone, audio in, 2 USB, video, parallel, serial, keyboard, mouse, security loop and power connections: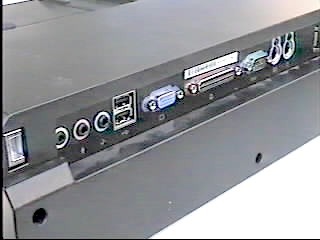 Heavy-duty monitor stand latches firmly to port replicator and supports up to 100 pounds/21 inch monitor. Laptop in docking station slides conveniently underneath: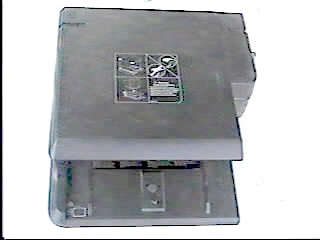 Features:
Fully compatible with Compaq Armada E and M series. NOT compatible with Armada 1000, 3000, 4000, 6000, 7000 or V series notebooks.
Power connector - AC Adapter not included - use the AC adapter that comes with your laptop.
These are previously used units from dot com bankruptcy/liquidation auctions, in most cases used for less than 18 months. They have been tested and are guaranteed for 15 days from when you receive them. They may have some cosmetic scuff marks etc.
Compaq Port Replicator For Armada E and M Series with Monitor Stand: $39.
Shipping of $20 Fedex Ground in continental USA will be added at checkout. We offer a money back guarantee. If a unit has a problem you may return it within 15 days from when you receive it and we will refund your purchase price (you pay return shipping).
We accept paypal (and indirectly visa and mastercard) via the shopping cart buttons above. We also accept visa and mastercard directly via phone at 408 725 8652 (ask for Dave). Sorry, we do not accept American Express or Diners Club or any other credit cards. For any enquiries please email me with your requirements or call Dave at 408/725-8652. We are in San Jose, California.
Limited quantities available and offered subject to stock on hand.
Copyright 2001-2003 David J. Nixon All Rights Reserved