Dell™ Latitude™ D/Port Advanced Port Replicator PR01X
Designed for the latest Inspirons and D-series Latitude notbooks, including the Inspiron 500m, 600m, 8500, 8600, and Latitude D400, D410, D420, D500, D510, D520, D600, D610, D620, D800, D810, D820, and also for Precision M60, and M65. The laptop locks into the port replicator in seconds and then you have the convenience of using full size peripherals.

These are previously used units and only the port replicator is included.

Front view: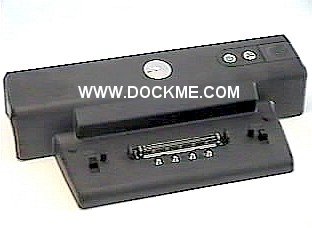 Back view from left to right: power, modem, network/lan, SVideo, DVI, Video, Parallel, serial, mouse/keyboard, S/PDIF, and 3 USB 2.0 ports: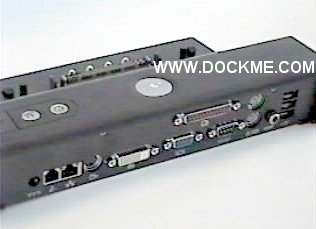 On left side: headphones/audio out, another USB 2.0 port (4 total), and a different power socket than the one on the back.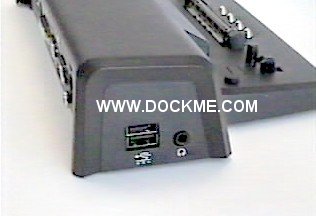 The right end has a locking mechanism for laptop security.
[picture coming soon].
In stock June 2009
Dell D/Port Advanced Port Replicator Model PR01X: $99.95.
Features:
Fully compatible with all Dell Latitude D-series laptops.
Model number PR01X, also known as a D/Port or D/APR.
Dell Part number: 2U444
Standard I/O connectors for attaching:
A serial device
A parallel device
An external monitor
A PS/2 mouse
A PS/2 keyboard or keypad
4 USB 2.0 connectors (three on back and one on the left side).
One RJ45 network connector for attaching to Ethernet network.
One headphones/speakers/audio out jack
S/PDIF phono jack
DVI port
Power connector - AC Adapter not included - requires a PA-10 AC adapter which may be what came with your laptop or you may have a PA-12 and need to upgrade to a PA-10.
These are previously used units from business liquidations, off-lease or similar , in most cases used for less than 18 months. They have been tested and are guaranteed for 15 days from the date you receive them (see below). They may have some cosmetic scuff marks etc.
Shipping of $9.95 priority mail in continental USA will be added at checkout. For other locations please email me your address for a shipping quote. We accept paypal (and indirectly visa and mastercard) via the shopping cart buttons above. We offer a money back guarantee. If a unit has a problem you may return it within 15 days from when you receive it and we will refund your purchase price (you pay return shipping). For any enquiries please email me with your requirements or call Dave at 408/725-8652. We are in San Jose, California.
Limited quantities available and offered subject to stock on hand.
Copyright 2001-2004 David J. Nixon All Rights Reserved